From 1945 to 2008, the Rev. W. Awdry and his son, Christopher created multiple characters. Some made it to the TV series, some didn't. These are the ones that didn't.
Wilbert
is a Hunslet WD 0-6-0 Saddle Tank engine who works on at the Dean Forest Railway. He came to Sodor intially to work on Duck's Branch Line, but did some work on Thomas' while Percy was at the works. He had an incident where he got milk in his water tank and had to be thoroughly cleaned. He did some work on Duck's branch, where he had some troubles with a damaged truck, before going home with a big sendoff.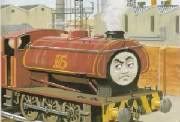 Sixteen,
is the Hunslet WD 0-6-0 Saddle Tank engine with a number for a name. He is restless and stubborn, and was unwilling to take advice of his crew and other engines about the weak rails at the mineshaft. It was until one day that Sixteen was careless and the rails collapsed underneath him. He was repaired, and sold to another railway. Wilbert hopes he learned his lesson after that.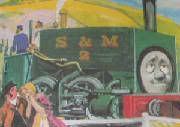 Neil
was the first standard gauge engine on Sodor. He has a boxy boiler and an ugly shape, but he was friendly. Neil took on the role of taking Skarloey off a ship and to his line and the Narrow Gauge engine took a shine to him. It is not known how he left the service. He was a Neilson 0-4-0 Box Tank.
This engine was known as a
Foreign Engine
to the Sodor engines. He is a stubborn LMS Patriotic 4-6-0 tender engine from the Other Railway, and came for one night on Sodor pulling a special passenger train. He is snooty, and argued with Duck and Gordon about what the main London Station was: Kings Cross, Paddington or Euston. These and St Pancras are the main stations of the big four railways.
D7101
originally came to Sodor as a blue diesel with just a number that worked with D199 and had to keep him in order. After they were both resuced by Henry, he went back to the other railway. The Fat Controller brought him back to help out on the Main Line and he was painted green and was called
Bear
due to his engine growling, which he decided to keep. He treats the engines were nicely and occasionally takes the Express. He is a BR Class 35 "Bymek" B-B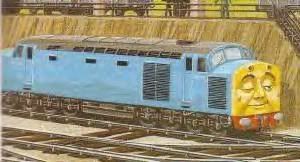 Old Stuck Up
didn't get this name for nothing. The diesel bragged about being the latest in modern technology and how steam engines weren't respected on his railway, but slippery rails taught him the best when he crashed into the back of Tidmouth Sheds. He left rather abruptly after that. He is a BR Class 40 1Co-Co1
This diesel works on Sodor and has only had a small non-verbal role in which he took James to the works, and has become known as
The Works Diesel
. He only made another cameo in
Henry and the Express
. It is a BR Class 47 "Brush" Co-Co.
A few of the Narrow Gauge characters that never saw the spotlight.
There are some coaches on the Narrow Gauge Railway that are older than Skarloey and Rheneas! Their names are
Agnes, Ruth, Jemima, Lucy
and
Beatrice.
Agnes is first class, Ruth, Jemima and Lucy are third class and Beatrice is the guard's van. Agnes is proud as she has cushions and the other three have bare boards, and Beatrice smells of fish and cheese. Agnes also acts as the leader and says when to bump or hold back. Jemima is also a bit deaf. The coaches dislike Sir Handel as he insulted them and originally disliked Skarloey, but grew to like him and like Rheneas and Peter Sam as well. They are based on the Tallylyn coaches.
Ada, Jane
and
Mabel
are roofless coaches that look like trucks, but they have seats in them. Sir Handel doesn't like taking them.
Cora
is their van and is smaller than Beatrice but also has a ticket window and is from Mid Sodor and good friends with Peter Sam. She is based on a Corris brake van, while Ada, Jane and Mabe are based on Ex-Penrhyn Railway Quarrymen's coaches that were redesigned by the Tallylyn Railway
Gertude
and
Millicent
are coaches that have special bogies. Sir Handel enjoys taking them as they are "the only real coaches" on the line and they remind him of the Mid Sodor Express. Millicent has a cupboard that the guard travels in.
Ivo Hugh
is a Narrow Gauge engine named after the engineer Mr Ivo Hugh. Not much is known about him but he was very quiet and shy at his unvieling party. His name was hidden and the workers weren't allowed to talk about him. He is a 0-4-2 Sidetank based on Tallylyn's
Tom Rolt.
The Arlesdale Railway is a 15" Narrow Gauge line that runs from Alresburgh to Arlesdale, mainly to work at the quarries. It is Sodor's smallest railway but they have proved to be big and mighty. The Fat Controller uses them to mine ballast for his railway. (Based on the Ravenglass and Eskdale Railway)
The Culdee Fell Railway is a mountain rack railway based around the Culdee Fell Mountain with 0-4-2 Sidetank engines. Culdee shed some stories to the Narrow Gauge engines, only to find more drama when he got home... (Based on the Snowdon Mountain Railway)
Culdee
is a special engine who works on the Cudlee Feel Mountain Railway. He has an odd look and has a face on his cab as well. He was one of the original engines and was used in tests before the railway opened. He spent some time at a works in England and was placed near Crovan's Gate when he came back to Sodor and befriended the Narrow Gauge engines while he waited. He then returned to his railway and put up with new engine Lord Harry and helped teach him a few lessons. He has a coach named Catherine.
Lord Harry
arrived while Culdee was away and made a bad impression. He was a very rude, rough engine who ignored advice and treated the coaches badly. He eventually came off the rails and had his name taken away from him and was known as No. 6. His only job was to take a train up to Devil's Back every day. When a storm hit, some mountain climbers had an accident and he braved bad weather to get the medical team to them. The hikers came to see him and thanked him and said that one of the people saved was called Patrick, and that became Lord Harry/No. 6's new permanet name.
When Sir Handel and Duncan were complaining one day, Culdee told a story.
Godred
was named after a King and very stuck up and didn't act very careful, saying that his automatic brakes would always help him. However, one day the ground slipped away and he fell over the side. He was rescued but wasn't repaired and instead pulled apart to be used for spare parts. Sir Handel and Duncan got scared, but it was implied that the story was made up.
Catherine
is a coach that Culdee uses on the railway. She is very helpful and is pushed by Culdee instead of pulled and always alerts him when there is a problem. She is friends with the other coaches and disliked being pulled by Lord Harry. She is based on a SMR Coach
Even in the books, rolling stock had faces!
The Little Western Autocoaches are
Isabel, Dulice, Mirabel
and
Alice.
Isabel came from the scrapyard with Oliver and has a bell that she uses to communicate with him. Dulice joined them when they arrived on the Fat Controller's railway and Duck was given Mirabel and Alice. Those three had been rescued from scrap as well. They are very friendly with their engines and worry when things go wrong.
Victoria
is a 2nd Class coach that used to work on the Furness Railway being pulled by an engine named Albert. She was bought and was brought to Sodor and was put into an orchard as a shed. Years later, the workers at the Anopha Quarry were doubling and Henrietta couldn't hold more passengers without breaking the law. Thomas found Victoria after some bushes were cut and The Fat Controller restored her and she became part of Toby's Vintage Train, though Thomas occasionally takes her. On the Furness Railway she worked alongside another coach called
Helena.
These characters, whether they appeared or not in the Railway Series, are little known and have loosely known backgrounds. This is a little bit about them.
98462 and 87546 were seen in the shed in the first Railway Series story Edward's Day Out. They were visiting on trial from the mainland, though the Fat Controller sent them back due to their rude behavior. Most fans of the Railway Series were confused about their being there, so Christopher Awdry explained their appearance in the Island Of Sodor book.
Eagle was an engine that appeared in the first Railway Series book in The Sad Story Of Henry. His type looks very similar to James. When Henry stayed in the tunnel, Eagle was sent to push him out. Eagle was never mentioned or seen again after his appearance, and his whereabouts are unknown.
Fred is No. 9 on the Skarloey line, and a good friend of Rusty's. He is used for maintenance and engineering works. The Thin Controller had originally purchased two worn-out diesels, but both were combined to create Fred. Fred was never seen, but mentioned in Speedkiller.
Barry was a cut character that was to be introduced in Barry The Rescue Engine, the intended 39th book of the Railway Series, but never made it. He is said to be a steam engine the same type as Wilbert, with red paint and blue lining.
Blister I and Blister II are two little diesel shunters on the Arlesdale line. They were rebuilt for the 15" track width, and were restored with electrics, radios, and air brakes for working light trains in emergencies. They were never mentioned in any of the Railway Series.
Jim, Tim, Albert, and Jerry are engines that worked on the Mid Sodor Railway alongside Duke, Stuart, Falcon, and Stanley. There was never any back story behind them, though were seen on the Rev. W. Awdry's model layout.
Lord Helen was a coach that worked with Lord Harry on the Culdee Fell Railway. She recalls he was rough and she didn't like working with him. Though when Lord Harry was renamed to Patrick, her name was renamed to Patricia to match his new name.
Nora, Gwen, Amy, and Ellie are the other coaches on the Culdee Fell line. Each belong to an engine. Amy belongs to Alaric, Ellie with Eric, Gwen with Godred, Nora with Ernest. The coaches belonging to Wilfred and Shane Dooiney are unknown.
Elsie is a luggage van that runs with Toby, Henrietta, and Victoria. She arrived with Toby and Henrietta on Sodor, though was never seen. She is rarely used, but is useful and loyal when she is. Elsie shares a shed with Henrietta.
Mark V was an electric diesel for the Skarloey line built for easy transportation for the Thin Controller and Mr Hugh. There is little known about him, though he doesn't have couplings as he is too small to pull trains.
Manus, Doalty, and Jimmy are Toby's brothers. They worked with him back on his old line in the harbours and on the branchlines. As Toby's line was closing, they were each sold to privately owned railways. Toby hasn't seen them since.
The Other Railway Diesels appeared throughout Stepney the "Bluebell" Engine and Oliver The Western Engine. They are rude and horrid, looking down on steam engines. Both Oliver and Stepney were nearly scrapped by these diesels, but luckily both escaped. Two of the diesels that appear in Stepney the "Bluebell" Engine are numbered D701 and D782.